Acupuncture in Burke VA uses tiny needles (about the width of a hair) to stimulate acupuncture points on the body. Treatment of acupuncture points helps to resolve pain; strengthen bodily function such as digestion, hormones and blood circulation; and regulate emotions.
---
How Does Acupuncture Work in Burke VA?
Acupuncture works by helping the body to get more out of its own natural healing resources. Our bodies produce a wide range of natural pain relieving substances, natural anti-inflammatory chemistry, hormones, immune system enhancers, and so forth, all without the need for outside drugs. In fact, some of our most effective drugs are man-made synthetic copies of the chemistry our body makes naturally like cortisone. In modern medicine we made the mistake of assuming that when a problem lingers and is not healed right away by our internal natural resources, this must mean it is beyond our body's ability to heal. We then look to bring-in outside resources likes drugs or surgery to address the problem. The fact is though that just because a problem is not healed right away by our internal resources does not necessarily mean it is beyond those resources. We don't always get 100% from our inside self-healing resources. Acupuncture helps us squeeze more out of our natural ability to heal ourselves – to get closer to 100% of our full potential.
Your body has already been trying to heal your problem but has not yet been able to get the upper hand on it. A good course of acupuncture treatment should always be able to help anyone to improve their body's healing efforts by at least 10-20%. What I need to figure out is whether or not the 10-20% boost from acupuncture will make the difference needed to help your body to finish the job. Acupuncture helps to balance the body allowing the body to heal optimally.
Auriculotherapy, also known as ear acupuncture, is a treatment strategy that involves stimulating acupuncture points on the ear to resolve health conditions in other parts of the body. Ear acupuncture is fantastic for treating hundreds of conditions, including body pain, constipation, hemorrhoids, and menstrual disorders.
---
What Makes Our Acupuncture Treatments Different?
We utilize modern technology to help us diagnose the patient. Acugraph is a software that can measure and evaluate the acupuncture channels called meridians and graphs them onto a computer. We perform this analysis at each visit to ensure you are improving and make changes to your treatment plan as you are improving.
---
AcuGraph Analysis
AcuGraph Analysis is a scientific approach to acupuncture diagnosis. We measure electrical skin resistance at acupuncture points to see on a computer screen where your body has electrical imbalances. This analysis helps us better understand the underlying cause of your health conditions, which helps us solve your problems quicker. We perform a graph analysis each time visit so we can monitor your progress and modify the treatment as you improve.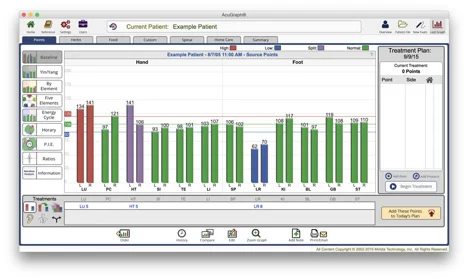 We know not everyone likes needles so we also offer Non-Needle Acupuncture.
---
Non-Needle Acupuncture Therapy Techniques Include:
Vibrational Therapy
Vibrational therapy is an exciting new treatment approach to muscle and ligament problems. It dramatically enhances the effectiveness of acupuncture treatment. Our unique combination of acupuncture and vibrational therapy is very effective in relaxing tight muscles due to adhesions, scar tissue and old injuries—especially in the shoulders and hips. Additionally, vibrational therapy helps increase circulation and promotes lymphatic flow.
Laser Acupuncture
We use low-level laser to stimulate the movement of energy in the acupuncture channel via acupuncture points to help regenerate cells, decrease pain, reduce inflammation and improve circulation. Laser acupuncture is especially helpful to treat children and adults with a needle phobia. We also use laser for scar tissue blockages caused by adhesions.
Gua Sha
Gua Sha a skin scraping technique that stimulates blood flow at the surface of the skin to activate acupuncture channels. Gua Sha is often used to treat muscular pain, to boost the immune function and to reduce inflammatory symptoms in chronic illness.
Cupping
Cupping therapy is a form of treatment in which cups are placed on the skin to create suction. It promotes healing and blood flow in superficial muscles. As the skin rises within the cup, redness appears on the skin. The redness is considered to be "old stagnant blood" from deep in the musculature. Pulling old blood to the surface allows for new blood to circulate and heal the wounded area.
Herbal Prescription:
Individual Chinese herbs are combined into specialized formulas to fit your individual needs. All of our herbal formulas are FDA approved and made from herbs harvested and prepared in the U.S. Many treatment strategies use a combination of acupuncture therapy and Chinese herbology.
Monday
7:00am - 12:00pm
1:00pm - 5:00pm
---
Tuesday
7:00am - 12:00pm
1:00pm - 5:00pm
---
Wednesday
7:00am - 12:00pm
1:00pm - 5:00pm
---
Thursday
7:00am - 12:00pm
1:00pm - 5:00pm
---
Friday
Closed
---
Saturday & Sunday
Closed