Chiropractic Testimonials
"I have had chronic lower back pain with gluteal pain for 7 years. I have tried pain meds, massage, and muscle cream with no success. I have noticed a steady improvement and ART has speeded healing. I am an absolute believer in maintenance chiropractic. It has been excellent working with NOVA Chiropractic & Wellness Center."
- Carol R.
---
"I was so happy to meet Dr. Sullivan at a triathlon event a couple of years ago. I had been having lower back pain for sometime without finding any relief. Dr. Sullivan told me about ART and gave me a treatment and to my surprise I felt better. I continued to see Dr. Sullivan and he worked on areas I have had chronic problems with and I felt better than I had for years."
- Robin K.
---
"As a result of Parkinson's Disease, I had chronic low back pain and adhesions in many muscles. The results have been phenomenally positive. The ART and Graston have removed most adhesions. The increased physical therapy exercises, under Dr. Sullivan's supervision, are rebuilding my core muscles and are reducing significantly the low back pain. Anyone seeing me walk down the street would not know that I have PD. For sure, none of this improvement would have been possible without the medication. However, the medication alone would not have restored the muscle strength and flexibility I enjoy today. The holistic approach used by Dr. Sullivan seperates him from the many chiropractors, which just crack bones. The ART and Graston techniques, together with an improved exercise program, are a key component in my continuing fight against PD."
- Bruce M.
---
"I have had left leg pain and right low back pain for several years. I have also been dealing with painful shin splints and Dr. Sullivan has helped provide me with complete relief. Thank you."
- Sharon L.
---
"I have had headaches for 10 years. The headaches started with neck pain and tightness. I have been through physical therapy, a neurologist prescribed muscle relaxers and alieve with no relief. Since beginning Chiropractic care my neck is less stiff and more mobile. My headaches have reduced in frequency and if I get them now they are less severe. I am also more aware of how I sit at work and often stop to stretch and readjust my posture."
- Beth C.
---
"I have been suffering from chronic neck and shoulder pain which has caused headaches for years. Since I have been coming I have fewer headaches and been in much less pain. I can't recommend the NOVA Chiropractic & Wellness Center enough. Dr. Sullivan is a credit to the chiropractic profession. He has helped reduce my pain and loosened up my neck and shoulders with ART."
- Kyle R.
---
"I have a compressed disc and some spinal stenosis along with muscular problems. Dr. Sullivan clearly diagnosed these conditions some 3 years ago; he began treatment and therapies right away in the order of severity of my problems. He has during that time significantly reduced the pain I had endured for many years, and I endorse his professional approach being nothing short of total relief. Now and again when I experience twinges he takes the appropriate treatment approach and easies my condition, I am on a maintenance program with him and heartily endorse him."
- Pete J.
---
"I was having severe dizziness for a very long time associated with neck problems. After seeing many doctors, Dr. Sullivan was able to start me on the healing process. It is going to take some time, but I am confident now that I can be healed of this problem. I am grateful for Dr. Sullivan's help."
- Carl M.
---
"Dr. Sullivan has a tremendous understanding of ART and how to help anyone with an injury speed the recovery process. I believe Dr. Sullivan's perceptive manner looks beyond my therapy to my competitive mindset. As a former triathlete and recent shoulder replacement patient I may not be running any races, but I do want to get back to an active lifestyle. Dr. Sullivan has helped me overcome my therapy challenges and I feel 110% better. Thanks Doc!"
– Jim C.
---
"My headaches were so painful that I could not do much throughout the day. Since I have been coming to see you I have not had any headaches and I also have had much more energy as well. Thanks so much for taking such good care of me."
- Kelly S.
---
"A 10 year old injury to my right shoulder and the right side of my back created difficulty in my pro hockey career until I met Dr. Sullivan. Since my injury in college I have been seen by many Chiropractic Doctors who always thought by a quick adjustment would fix my problem. The pain never decreased until I began treatment with Dr. Sullivan. His A.R.T. treatments have taken away my pains, which has helped to prolong my hockey career and now allows me perform at a higher level. The treatments have increased my range of motion, flexibility, and strength. Dr. Sullivan is a BIG part of why my hockey career is still a success!"
- Ernie H.
---
"Thank you so much for fixing my hip and shoulder. My strength and pain have improved so much from ART. You have helped me get ready for the 2007 Hockey season."
- Ryan L.
---
"I wanted to express my profound gratitude for referring me, to Dr Todd P. Sullivan for Active Release Technique and Graston Technique to treat the pain in my right calf. The treatment has been very successful. You can certainly continue to refer patients to Dr. Sullivan with the utmost confidence for treatment with Active Release Technique and Graston Technique. Thank you again for the successful referral."
- Steven W.
---
"Dr. Sullivan is very unique with his techniques. The A.R.T. procedure is most effective. As a result, I'll continue to recommend him, to my friends. To date, several have had dramatic recoveries."
- George C.
---
"For quite some time I experienced a pain and discomfort in my leg. No one was able to help me or give me an explanation regarding this problem. Dr. Sullivan examined my leg and explained why I was having this pain. After several treatments my pain was gone. Dr. Sullivan is never too busy to listen to me and he is concerned about my overall health. Thank you Dr. Sullivan for helping to keep me healthy."
- Joyce
---
"Just wanted to thank you for all the work over the years. As you get older it gets harder to stay on top of your conditioning and your game. Because of all our hard work I was able to play through injuries that would have sidelined most and stay in my peak physical condition. This enabled me to have my most successful years at the end of my career, an unusual time for athletes to perform at their peak. Thanks for helping me put time on our side."
- Reggie B.
---
"Dr. Sullivan is a thoughtful and professional person. He listens intently to me each time and asks questions that draw out specific problems. He spends as much time as needed – I never feel rushed or "squeezed" in. I have felt so much better and understand my body and problems more that ever before. Dr. Sullivan's A.R.T. © has helped me enjoy my active lifestyle."
- Bettie S.
---
"I could not imagine being able to complete the Eagleman Triathlon before coming to see you. You have fixed my problem with my hip and low back, thank you."
- Donna M.
---
"I have competed in several triathlons all of my life until a few years ago. Before you treated me with ART I could not run more than two miles without my calf cramping up. The day that you treated me I was able to run over 5 miles. Thanks for all of your help."
- Mark J.
---
"I recently participated in the giant acorn triathlon on October 6th that you guys sponsored. I just wanted to say thanks. It couldn't have happened without you guys and it made my first triathlon an amazing experience that I will take with me to many more triathlons to come. Im hooked. I had an awesome time. Thanks again."
- Lindsay
---
"I was unable to run for 6 months due to a plantar fascitis problem. The ART and orthotics have made a world of difference. I am now able to run daily without pain. Thank you so much."
- Cindy K.
---
"Before coming to see you my golf game was suffering due to my wrist pain. Thank you so much for fixing my wrists."
- Judy L.
---
"Both of my knees have been painful for several years while running and while playing sports, thank you so much for getting me out of pain. I would not able to run if it is was not for you."
- Sally W.
---
"My hamstring have been chronically tight for years. I have tried everything with no success until you worked on them with Graston and ART. My legs feel great and my workout have improved immensely. Thanks."
- William S.
---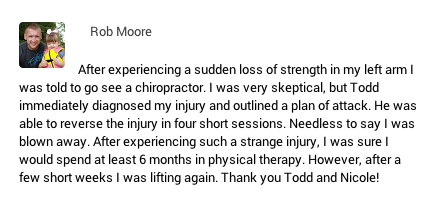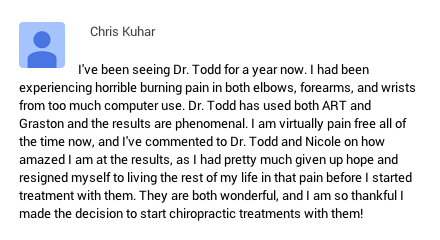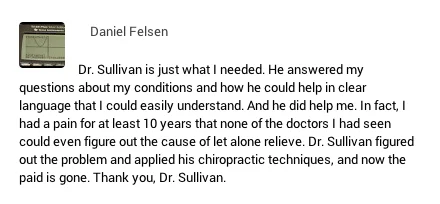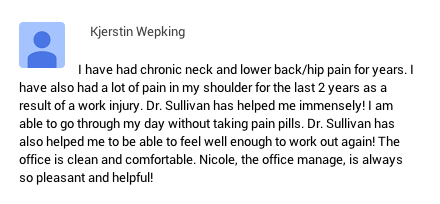 Monday
7:00am - 12:00pm
1:00pm - 5:00pm
---
Tuesday
7:00am - 12:00pm
1:00pm - 5:00pm
---
Wednesday
7:00am - 12:00pm
1:00pm - 5:00pm
---
Thursday
7:00am - 12:00pm
1:00pm - 5:00pm
---
Friday
Closed
---
Saturday & Sunday
Closed